DETROIT – After a year-long search, the Michigan Science Center announced Thursday that out has hired Christian Greer as its new president and CEO.
Greer comes from the Saint Louis Science Center where he  served as the Chief Officer of Science, Education, and Experience and oversaw Science Beyond the Boundaries – a network of more than 275 science centers and museums from around the world.
He also has served in leadership positions at Adler Planetarium, Denver Museum of Nature & Science, Chicago Architecture Foundation, and Shedd Aquarium, where he launched Midwest Regional Underwater Robotics Competition.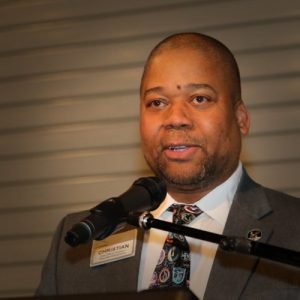 Christian Greer
"We are thrilled to have Christian join the MiSci team," said Tom Stephens, chairman of the MiSci board of directors. "His extensive experience, combined with his leadership skills and passion for informal STEM education is exactly what we need to help us achieve our vision to empower and enrich all children and all communities with STEM."
Greer received his bachelor's degree in physics from Morehouse College in Atlanta, Georgia. He also is a Northwestern University Kellogg Executive Scholar and Chicago Community Trust Leadership Fellow. Greer is currently a doctoral candidate in learning technologies at Pepperdine University, where his research interests focus on social network analysis, distributed leadership and online collaborative learning environments.
"I am simply delighted to be MiSci's new president and CEO. It is an amazing organization with talented staff and limitless potential. There also is a ton of innovation energy in Detroit right now, and I want to be a part of it. Putting science in the hands of curious people across the state of Michigan is how we can shape the future and make an incredible impact together," said Greer.
 For more information, click on Mi-Sci.org.