ROYAL OAK – What is the Marburger STEM Center at Lawrence Technological University? Executive Director Sibrina Collins explains in this segment of M2 Techcast.
In September, the STEM Center celebrates is third anniversary. It was founded with a $20 million donation from Microsoft co-founder Steve Ballmer, who once took classes at LTU when he was in high school. More information can be found at this link: https://www.ltu.edu/stem-center/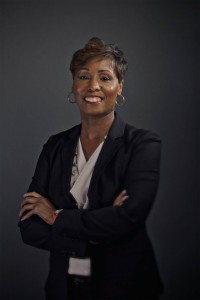 Sibrina Collins 
Collins is an inorganic chemist and STEM administrator. She began her college career at Highland Park Community College (Highland Park, Michigan), where she earned an associate of science degree in 1990. Dr. Collins later earned a B.A. in chemistry (cum laude) in 1994 from Wayne State University (Detroit, Michigan). She earned her M.S. (1996) and Ph.D. (2000) both in the field of inorganic chemistry, from The Ohio State University.
To learn more about the STEM Center and Collins, click on https://soundcloud.com/internet-advisor-755109612/m2-techcast-episode-136-dr-sibrina-collins-exe-dir-marburger-stem-center