NOVI – ITC is lighting up 10 of its 150-foot tall transmission towers in lower Michigan with colorful holiday decorations again this year, including four in Metro Detroit.
Each tower is decorated with about one-third mile of rope lights – some 17,700 bulbs – topped by brightly lit stars. The displays also include 10-by-15 foot Happy Holidays signs.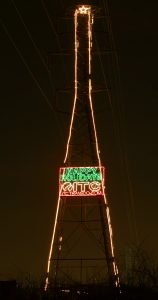 ITC's Michigan operating entities are ITCTransmission and Michigan Electric Transmission Company LLC.
ITC also will feature lighted holiday signs on its headquarters building along M-5 in Novi and on its office/warehouse locations in Kawkawlin and Wayland.
"Our tower decorations have become a holiday tradition in Michigan," said Simon Whitelocke, vice president, ITC Holdings Corp. and president, ITC Michigan. "We're happy to join the communities we serve all across the Lower Peninsula in celebrating this festive time of the year."  
ITC transmission towers will be lighting up the sky in the following communities:
Belleville (I-94 west of Haggerty)

Bridgeport (I-75 between Dixie Hwy. and M-46)

Brownstown Township (I-75 between Van Horn Rd. & Vreeland Rd.)

Gaylord (I-75 south of Gaylord exit 278)

Grand Rapids (US 131 north of 28th Street SW)

Livonia (south of Plymouth Road and Hines Drive)

Marysville (M-29 Busha Hwy. and Huron Blvd.)

Novi (I-96 at Meadowbrook)

St. Clair (I-94 north of Fred W. Moore Hwy.)

Sterling Heights (Hall Road east of M-53)
Avery Sign Company of Ferndale designed and maintains the decorations for ITC. Utility Lines Construction Services places them on the towers.
ITC Holdings Corp., the nation's largest independent electricity transmission company based in Novi, Michigan, owns and operates two subsidiaries in the state: ITCTransmission and METC (collectively, ITC Michigan). The two systems comprise approximately 8,700 circuit miles of transmission line serving most of Michigan's Lower Peninsula.
For further information visit www.itc-holdings.com. ITC is a subsidiary of Fortis Inc., a leader in the North American regulated electric and gas utility industry. For further information visit www.fortisinc.com.