ROYAL OAK – Where's the coolest place to be this summer? Why the Michigan Science Center, so says CEO Tonya Matthews in this interview on M2 TechCast. With hands-on exhibits, shows, films, camps, events and more, we're the perfect place for curious minds of all ages rain or shine.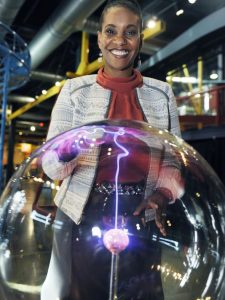 Summer Science Camp: It's important to stimulate young minds, especially during summer vacation. To support children and families while school is out, the Michigan Science Center is offering summer camp for children in preK – 8th grade.
Each week of science camp features unique, science-themed experiences where campers will participate in hands-on activities and adventures. Themes include: Animals, Space, Robotics, Forensics and more. Additionally, campers will enjoy live presentations, theater shows and field trips.
Camps are segmented by grades – PreK – Kindergarten, 1st – 2nd grade, 3rd – 5th grade, and 6th – 8th grade – which allows our team of educators to tailor each week's activities to our camper's interests and complement school curriculum.
The first summer camp session begins June 25 and is selling out quickly. Sign up your camper today at Mi-Sci.org/camps. Cost is $280 for non-members and $250 for members.
Virtual Summer of Science Camp: Can't make it to MiSci for camp? We've got you covered. Join us in July for the third installment of our FREE Virtual Camp with Metro Parent Magazine. It's a six-part video series full of amazing DIY projects to try at home – plus a companion guide with even more fun stuff. Register at MetroParent.com/metro-parent-virtual-camp-for-kids/.
Our Place in a Galaxy Far, Far Away: Enjoy our newest planetarium show, Our Place in a Galaxy Far, Far Away. Join us on an exciting, live tour of our place in the Universe as we compare our solar system and galaxy to those far, far way. Learn the real meaning of a parsec and what the asteroid belt really looks like. Plus, explore the planets and discover the true size of our galaxy. Opens June 26.
After Dark: Our After Dark series has been called "the thinking person's happy hour," and two of our most popular themes are returning this June and July. On June 21, we'll celebrate the summer solstice and on July 19, we'll get nostalgic with vintage video games. Guests (21+) will also enjoy music, signature cocktails and more, all with a dose of science. Doors open at 6 p.m. and tickets can be purchased at Mi-Sci.org/after-dark.
Events Open House: Did you know that the Michigan Science Center is one of Detroit's largest event rental spaces? Event planners and individuals are invited to learn more about hosting weddings, bar/bat mitzvahs, corporate events and more at MiSci on July 19 from 3 – 5 p.m. This free event also includes admission to After Dark: Vintage Video Games from 6 – 9 p.m. Contact [email protected] for more information.
Summer Hours: MiSci is extending its hours this summer. June 26 – September 2 for more STEM learning.
•

Tuesday – Friday: 10 a.m. – 5 p.m.

•

Saturday: 10 a.m. – 5 p.m.

•

Sunday: noon – 5 p.m.

•

Closed Mondays (with the exception of Summer Science Camp)

•

Closed July 4.
To hear all the details, click on https://soundcloud.com/internet-advisor-755109612/m2-techcast-episode-130-michigan-science-center-ceo-tonya-matthews