EAST LANSING – Are you as excited about the World Cup as the rest of the planet? Supported Intelligence LLC—the Michigan-based company behind SmartBracket—sure is, and signed up early adapters from 40 countries within the first 48 hours of opening it up.
 "After an incredibly successful March Madness season, with our one-click bracket placing in the 96th percentile on ESPN's bracket challenge, we set our eyes on the World Cup's knockout stage," said Ervin Batka, Lead Developer at Supported Intelligence.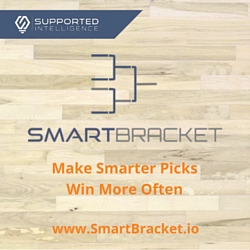 "We want to bring the same AI technology which made SmartBracket so successful to the international level," he added.
 SmartBracket is Supported Intelligence's breakthrough consumer application which provides users with NCAA March Madness brackets specifically tailored to their pools. The application was featured in Forbes magazine as one of the "best ways to pick a winning NCAA tournament bracket."
Breakthrough AI Technology
SmartBracket is built on the Rapid Recursive® technology, a patented artificial intelligence method invented by Supported Intelligence to compose and solve sequential decision problems. This same technology has been used for personal, business, and strategy decisions as well.
The SmartBracket World Cup application generates customized predictions for fans of the tournament for the group stage. The application takes into account various team statistics, as well as the users' preferences for different playing factors. "Just like we did for basketball fans, SmartBracket World Cup creates custom tournament predictions for fans from many different places," said Lead Developer Batka.
In the first 48 hours of availability to the public, SmartBracket World Cup garnered users from over 40 different countries.
Free for the Group Round
You can try the application for free at https://SmartBracket.io until the group stage ends. SmartBracket World Cup will be available for a fee during the knockout round.
For more information on Supported Intelligence and the Rapid Recursive method, please visit http://www.SupportedIntelligence.com