LANSING – At this very moment, Michigan is in a race with companies in Silicon Valley, and in countries around the world, to revolutionize how people, goods, and services get from point A to point B.
For decades, we've dreamt about what the future of mobility would look like — from the Jetsons to Back to the Future. And while many people expected our world to be filled with flying cars and hoverboards by now, we've seen significant advancements and innovation in the type of technology that could unlock a broad range of possibilities around the future of transportation.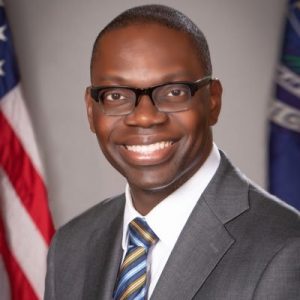 Lt. Gov. Garlin Gilchrist II
The intersection between technology and transportation is not new to our state. In fact, it was Michiganders who came up with the revolutionary idea to put the world on wheels in the first place. Since then, iterations on that innovative concept have been introduced for generations.
My interest in the future of mobility stems from two critical aspects in my life: family and education. I was born in the Motor City and raised in a family where both of my parents worked for the Big Three at some point during their careers. At five years old, I received a computer from my grandmother, which made me the first kid on our block to have access to this incredible technology. The importance of the automobile industry and the possibilities that are unlocked by technology have always stuck with me throughout my career in the technology industry.
Now, in my role as lieutenant governor, we need to ensure that Michigan is doing everything we can to give us a competitive advantage and help solidify our position as the mobility capital of the world for generations to come.
That is why Governor Whitmer and I are making the case for connected, autonomous, shared, and electric (CASE) mobility.
Connected. As technology becomes more connected across different platforms, we need to take a serious look at how future methods of transportation interact with our infrastructure. One of the ways we can do this is by developing connected corridors that allow vehicles to communicate with nearby infrastructure and other vehicles to reduce traffic, prevent crashes, and improve safety. Many of these connected corridors are already operating with the goal of reaching more than 500 miles of connected roadway by the end of 2020.
Autonomous. With all eyes on the future of autonomous vehicles, we have an opportunity to showcase the innovations and technologies that are being developed right here in Michigan. In May, we issued the Michigan Mobility Challenge with a call for industry leaders to submit new, innovative mobility solutions for travel between TCF Center and transportation hubs, hotels, restaurants during the Detroit Auto Show in 2020. Michigan isn't new to revolutionizing the transportation industry, and this challenge will ensure that we remain a pivotal force.
Shared. As a lifelong rider of public transit, I know that we can do a better job of connecting our communities to this vital method of transportation. In March, we introduced a budget proposal to provide an additional $64.1 million to support innovative projects in public transit, rail, and mobility services, specifically focused on increasing access for seniors and people with disabilities. We are making this investment because we know public transit creates more vibrant, prosperous communities, provides greater access to resources, and helps attract and retain a diverse workforce.
Electric. Since taking office, we've been deliberate in advancing our state's technology and transportation landscape in a way that also improves public health and tackles climate change. In September, we announced a $4.2 grant, which was paid for out of the Volkswagen Mitigation Settlement, to provide 17 electric buses in seven school districts as part of the diesel bus replacement project. As an EV owner of the Chevy Volt and Ford Fusion plug-in hybrid, the future of electrification is deeply personal for me. By encouraging more aggressive, more affordable electrification, we can create opportunities across all areas of transportation technology.
When we talk about mobility, we aren't just talking about cars and technology; we're talking about providing a higher quality of life to our residents. It's about making sure Michiganders in all corners of our state — from our urban centers to our rural areas, and throughout both our pleasant peninsulas — can fully participate in society through an array of connected, autonomous, shared, and electric transportation methods.
As the future of mobility plays out, Governor Whitmer and I will continue to lay the framework and make the case for a comprehensive mobility plan that maintains Michigan's legacy in the automobile space.
Garlin Gilchrist II is the Lieutenant Governor of the State of Michigan.