LANSING – I want you to take a second to imagine how you would move through today's world if you did not have access to the internet. 
How would this affect your day-to-day operations? How would this alter your job? How would this change the way you communicate with your family? How would this disrupt your ability to simply read my column on the internet?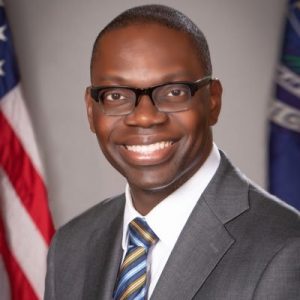 Garlin Gilchrist
In my role as lieutenant governor, access to the internet is fundamental to being engaged on social media, finding directions to the next event, or doing business as I travel. When I get home, I'm using the internet to help my twin son and daughter complete homework assignments or catching up on the latest shows on Netflix with my wife.  
The need for internet has become a necessity that is deeply ingrained in our lives. Yet, with the rate at which technology is changing, it's often hard for us to take a step back and appreciate just how far we've come — or even simply imagine what life would be like without this tremendous technology.  
It wasn't that long ago when things were much different: what used to take hours of searching through encyclopedias, can now be found in an instant with the click of a button; what used to take an entire room to process, can now be done on a handheld device; and what used to require trips to the store, can now be done from the comfort of our living room.  
We are incredibly fortunate to live in an era where the possibilities and opportunities are endless due to this thing that we call "the internet," but not everyone has this privilege. When it comes to internet access, there remain far too many people in both urban and rural areas who haven't fully experienced this life-altering technology. This has exacerbated the gap of great inequality between the haves and the have-nots.  
When I was five years old, my grandmother gave me a computer. I was the first kid on my block in the eastside of Detroit to have a computer back then, and this helped open my imagination to a whole new world of opportunity. However, while I had this tremendous experience, many kids who I grew up with that didn't have this opportunity — and still don't today. 
There are many different factors that affect our access to the internet. While we typically focus on access as it relates to infrastructure and availability of service from a provider, we must also be mindful of affordability, adoption, and a person's digital literacy. And in rural areas, residents face barriers to access in the form of distance and population density, which complicates traditional business models. 
If we are going to close the internet gap, we need to tackle the barriers of access, adoption, and affordability to fully enable the opportunities that the internet makes possible. We can expand access by working alongside providers to reach areas that have previously been inaccessible. We can expand adoption by increasing competition in areas with just one provider to ensure that consumers are getting the best deal. And we can expand affordability by calling for new, innovative business models and partnerships for providing internet service. 
For every second that we delay, the goalposts of adequate technology are constantly move further away. We must be aggressive in our approach to expand access because today's broadband standard of 25Mbps/3Mbps will be outdated in just a few years. This is an issue that extends from Detroit to Delta County in the Upper Peninsula. It's something that should concern all 110 representatives and all 38 senators in the Legislature.  
As we did with auto insurance reform, our administration has made it clear that we are willing to work with anyone that wants to solve problems. We want to make sure that everyone has a seat at the table, including providers, consumers, tech experts, and government officials. When we do this, we can dismantle the barriers of access, adoption, and affordability to bring internet access to every household. We can make Michigan a national leader 
The internet is the most enabling infrastructure we can create and invest in — and it's up to us to make sure that everyone has the ability to gain from this tremendous technology. 
Garlin Gilchrist II is the Lieutenant Governor of the State of Michigan.