BINGHAM FARMS – jācapps COO, Bob Kernen, named Most Valuable Professional by Corp! Magazine, an award that celebrates individuals that make business happen in Michigan and serve their community.
The award honors individuals who demonstrate strong leadership skills in growing and managing a successful business, becoming industry experts, and delivering lucrative business results.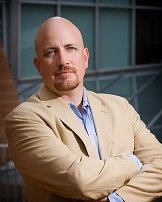 Kernen is a seasoned entrepreneur and startup specialist but has also worked closely with major brands including Ford, A&E Television, Microsoft, and Hearst. Throughout these experiences Bob's focus has been on new product development around emerging platforms with an emphasis on user experience and monetization.
At jācapps Kernen oversees strategy and operations for the company that has produced over 1100 apps, which have been downloaded over 22 million times. jācapps is an app developer in the radio space, the mobile solutions provider for hundreds of innovative organizations, and a house developer for Ford.
Not only is Kernen a Corp! MVP, but he's also an Emmy Award-winning writer and published author.
"This is a really nice honor. jācapps has been recognized by Corp! magazine before, and the whole team really deserves this one as well. I'm just one 'professional' on an outstanding team who demonstrates every day that when it comes to innovation and technology, Detroit is truly world class."
About Us: jācapps is a boutique mobile application development firm in Metro-Detroit. They have over 1000 apps and 10 years in the industry, by team members who are all Michigan-Sourced. jācapps developers go beyond common devices by delivering your message through the most used device in the world, as well as in the Connected Car, Tablets, Smart Speakers, Smart TVs, Streaming Devices, Wearables, and whatever comes next.