EAST LANSING – U.S. voters are likely to provide the largest number of votes to the nominee of the incumbent Democratic Party on November 8. The proprietary "Pocketbook Model," which has predicted the largest vote-getter in 22 of the past 25 elections, and every election since 1980, projects a popular vote margin of victory between 3 percent and 6 percent for Hillary Clinton.
"Voters have an awful lot on their mind this election year, but history shows that 'pocketbook issues' dominate most elections," said Patrick L. Anderson, the co-author of the original pocketbook model article.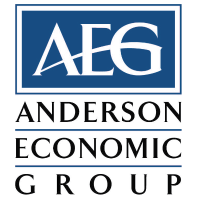 As noted by Forbes magazine this week:  "It's the economy, stupid!"
Anderson Economic Group's Patrick L. Anderson and Ilhan K. Geckil found that the most predictive way to determine who will win the presidency is to look at voters' wallets.
Read more of Forbes story on AEG's Pocketbook Predictions
Back in 2004, AEG created this model to predict the outcome of presidential elections, winning an outstanding writing award from the National Association for Business Economists.
The model considers just five simple variables: unemployment, income growth, inflation, whether we're at war, and third-party candidates. We examined each thoroughly and ignored poll data, approval ratings, campaign spending, debate performances, and advertising. The Pocketbook Model, quite intentionally, is unaware of the candidates' names, personalities, and positions.
Instead, it starts with the assumption that most Americans generally reward the incumbent party with their vote when the economy is good, and punish them when it's not. And it turns out this model has a pretty good track record. If you look back at all the presidential elections since 1916, the Pocketbook Model correctly predicts the winner of the popular vote in 22 of the 25 contests.
More recently, the model accurately predicted the outcome of the last four elections (2000, 2004, 2008, 2012) to within a couple percentage points, mostly using information that was available months in advance. Last election, the model worked based on revised economic data (substantial improvement in the economy in 2012, coupled with considerable government revisions, made an early-year prediction incorrect), prompting this year's prediction to be released closer to Election Day than ever before.
In the three cases where the model didn't work, voters seem to have had other things on their minds. In 1952, 1960, and 1976, the economy was doing well, but the incumbent party lost all three elections. The Cold War likely handed the White House to Eisenhower in '52, Kennedy's made-for-TV charisma narrowly beat out Nixon in '60, and disgust with Watergate ushered in Carter in '76. While the economy doesn't explain everything, we have discovered that the Pocketbook Model accounts for about 75 percent of the variation of the popular vote over the last century.
Just four years ago, when Mitt Romney ran for president, he pledged to bring unemployment below 6 percent nationally by the end of his first term. Today, unemployment sits at 4.9 percent. Owing to this drop, as well as positive GDP growth (2-3 percent), and a continued low inflation rate (approximately 0), the Pocketbook Model says that voters will reward the incumbent's party at the ballot box.
The Pocketbook Model does not constitute an endorsement by any economist or researcher; rather, it is a proven model that shows the most predictive way to determine who will win is typically by looking at voters' pocketbooks. And as with most presidential elections, there doesn't seem to be anything that will trump the economy.
Since its founding in 1996, Anderson Economic Group has become one of the nation's premier boutique consulting firms, specializing in business valuation, expert testimony, and public policy. AEG has assisted governments, universities, large corporations, and businesses across the U.S. and abroad. All of the firm's work is based on its core values of Professionalism, Integrity, and Expertise. AEG is headquartered in East Lansing, Michigan, and has offices in Chicago, New York City, and Istanbul.
For more information: www.andersoneconomicgroup.com