WASHINGTON DC – At a time when most governments are looking at ways to encourage electric vehicle adoption, a Republican senator heavily backed by the oil and gas industry has now introduced a new bill to end the $7,500 federal tax credit for electric cars and instead tax them more.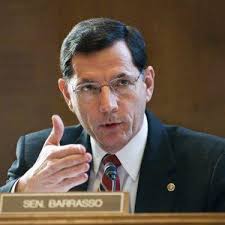 Sen. John Barrasso
Senator John Barrasso, a Republican from Wyoming, introduced the bill this week. The full text of the bill is not available yet on Congress' website, but the goal is clear from its title: "A bill to amend the Internal Revenue Code of 1986 to terminate the credit for new qualified plug-in electric drive motor vehicles and to provide for a Federal Highway user fee on alternative fuel vehicles."
The effort comes at an interesting time for the electric vehicle federal tax credit. It's the second year in a row that the GOP has tried to repeal the $7,500 federal tax credit for electric vehicles. The last attempt wasn't part of a much bigger bill and it was dropped from the final version.
Last quarter, Tesla became the first automaker to hit the 200,000 delivery threshold to initiate a phase-out period of the credit over the next year.
At the same time, a new bill in Congress is attempting to remove the delivery limit for the federal tax credit and replace it with a time limit.
The logic is that the delivery limit results in a disadvantage to early proponents of the technology, like Tesla, and will create a competitive advantage for other automakers who have been late to introduce EVs in volume.
But the bill is backed by Democrats in a Congress and Senate controlled by Republicans, which makes this new bill introduced by Barrasso much more likely to pass.
"Oil and gas" is one of the top sectors to donate to Barrasso's campaign, according to OpenSecrets. Chevron and Murray Energy are amongst Barrasso's top donors.
The bill has now been referred to the Committee on Finance.