KALAMAZOO – Musician and software developer Arturio Hinton was on the road listening to an acapella song on the radio when he said to himself, 'I wish there was a way to isolate the voice track, or the instrument track.'
As a software developer, Hinton knew he could craft an application that could do that. He took out his iPad and came to the conclusion he could develop an application that would let artists upload tracks individually. Hinton built a prototype and uploaded his first song.
"I might be onto something here," he said to himself.
But to find out if there was a market for his new music application, he did a survey with musicians and music fans from which he received more than 100 responses. Some 85 percent of those who responded said they'd like to use an app to isolate tracks.
Then he went to a Art Hope in Kalamazoo where he let customers sample what he has dubbed MuteSolo. He said everyone was blown away.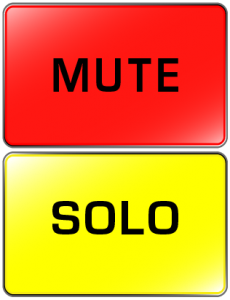 "There is no question that MuteSolo has recreated a new listening format that will replace the way we explore music content," said Hinton, the founder of Ydiop, software development company that provides businesses with custom technology solutions.
Earlier this year, with the help of Baird Tech LLC, the application was emailed to Ian Little, a United Kingdom-based multi-platinum producer for Duran Duran. Little was blown away too.
"I was immediately impressed by the features on offer from this impressive and powerful application," Little told MITechNews.Com. "It seemed to offer an easy and painless way of creating digital content for use on YouTube or other similar sites. Using straightforward tools in an inventive and imaginative way will certainly help create content that will stand out from the crowd.
"Like any tool, it's only as good as the person using it and the content they're using screencast to edit, but if you're creative and have a vision, and understand screencast's abilities, you'll be able to achieve your goal without too much grief," Little said. "Using the suite of editing tools available it's possible to come up with interesting and compelling ideas. Ultimately then, Screencast is only limited by your imagination. Personally, I can't wait to spend some time exploring what's under the hood of this package."
A screencast is a digital recording of computer screen, also known as a video screen capture.
"What I've done was just showed the advantages of my website," Hinton said. "Little saw exactly what I knew."
Here's the attributes of MuteSolo:
The music uploaded onto Karaoke-version isn't from the original artists. Only the author/performers/company will be allowed to upload stem tracks on my website.
One hundred percent of music sold goes directly to artist/author/record company.
In the future, people will be able to use my website for karaoke.
The future of music downloading is bleak. As streaming becomes more popular, people won't be buying music via download. Adding to this, it is rumored that Apple Music will slowly be phasing out its' music downloading service. Others will follow.
Users will be able to stream music from my website and app.
With publisher clamming down on bands/artists doing cover music, many venues are now allowing only original music to be performed.
Artists who are author of the music might use the website to perform live. But that is very unlikely because they use programs that are more sophisticated than mine or Karaoke-version.com. I know because I'm a music producer.
Because original artists will upload tracks, they can also share teasers of their multitrack songs via social media.
People don't have the flexibility to let to original songs any differently. It hasn't changed in over a century. My research has shown that people are open to listening to music with the ability to isolate tracks. Checkout this link. I tested the application at an art event in Kalamazoo where people allowed me to video record their reactions while using it.
"My goal is to get recording companies and artists to deliver their music in this format so people can actually appreciate their art," Hinton said. "Imagine being able to listen to a Beatles album re-released in multi-stem format where you can listen to the voice of John Lennon on his own or solo Ringo's drums. Now, I made it feasible."
For more information, click on http://ydiop.com/