LANSING – Linda Apsey, president and CEO for ITC Holdings Corp., has been appointed to The Nature Conservancy Michigan Board of Trustees. 
At ITC Holdings, Apsey is responsible for the strategic vision and overall business operation of ITC and its subsidiaries. Previously, Apsey served as executive vice president and chief business unit officer, leading all aspects of the financial and operational performance of the company.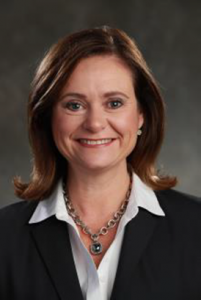 Linda Apsey
"Linda brings a smart, disciplined approach to her industry, which we value strongly in the business of conservation," said Helen Taylor, state director in Michigan for The Nature Conservancy. "We're very excited to have Linda join our board."
Apsey earned her master's degree in business administration and bachelor's degree in public affairs management both from Michigan State University. She is a member of the Business Roundtable and serves on the boards of The Detroit Economic Club, The Detroit Regional Chamber of Commerce, Business Leaders for Michigan, the Board of Trustees for Henry Ford West Bloomfield Hospital, the MSU Broad College Alumni/Advisory Board and The Eli Broad College of Business Alumni Board of Directors. She is a past member of the Dept. of Energy's Electricity Advisory Committee (EAC), the EAC's Transmission Subcommittee, past chair of The Heat and Warmth Fund and past president of the Novi Parks Foundation.
"I've always admired TNC's work, so I'm thrilled for this opportunity to work with them directly," Apsey said. "This organization, their mission and the results they produce for people and nature is astonishing. I am excited to play a role in advancing conservation in the 21st Century."
TNC is a global conservation organization dedicated to conserving the lands and waters on which all life depends. Guided by science, we create innovative, on-the-ground solutions to our world's toughest challenges so that nature and people can thrive together.
Learn more online at nature.org/michigan.
ITC is the largest independent electricity transmission company in the United States. Based in Novi, ITC serve a combined peak load exceeding 26,000 megawatts along approximately 15,800 circuit miles of transmission line, supported by 700 employees and nearly 1,000 contractors across the Upper Midwest.
For further information visit www.itc-holdings.com